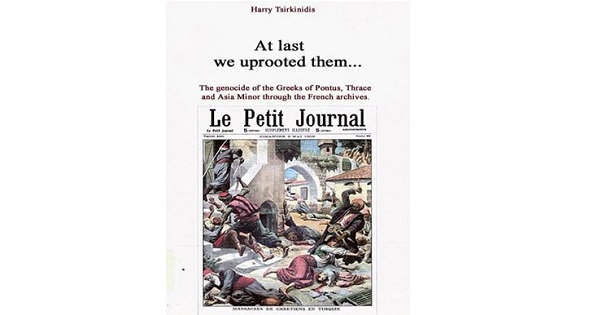 AT LAST WE UPROOTED THEM
THE GENOCIDE OF THE GREEKS OF PONTUS, THRACE AND ASIA MINOR THROUGH THE FRENCH ARCHIVES.
Harry Tsirkinidis.
Kyriakidis publishers 1999
332 pages..
Available at Amazon

Harry Tsirkinidis is a law graduate and a former military Attaché at the Greek Embassy in France. He has written a number of books about the Greek Genocide. This publication, which was originally published in Greek, is the result of his extensive research into the French archives.

In 2019, the television series The Red River (Το Κόκκινο Ποτάμι) aired on Greek TV. The series is set during the Greek Genocide and is based on a book of the same name written by Tsirkinidis, titled 'Το Κόκκινο Ποτάμι: Η Τραγωδία του Ελληνισμού της Ανατολής (1908-1923).'

Despite his Pontic roots, Tsirkinidis has always emphasized to his audiences that the genocide of Greeks in the Ottoman Empire was not confined to the Pontus region. In 2019, during a talk about the Red River TV series in Kavala, Greece, Tsirkinidis berated the efforts of Pontic Greeks and Greeks in general for the divided approach they've taken on the genocide.

In regards to the title of his book, according to a report of French military colonel Mougin, on 13 August 1923 in the Turkish Grand National Assembly (Turkiye Buyuk Millet Meclisi) in Ankara, Mustafa Kemal (1881-1938) declared:
"At last we've uprooted the Greeks ..."1
---
1. Tsirkinidis, Harry, At last we uprooted them… The genocide of the Greeks of Pontus, Thrace and Asia Minor, through the French archives, Thessaloniki: Kyriakidis Brothers, 1999, p. 300.