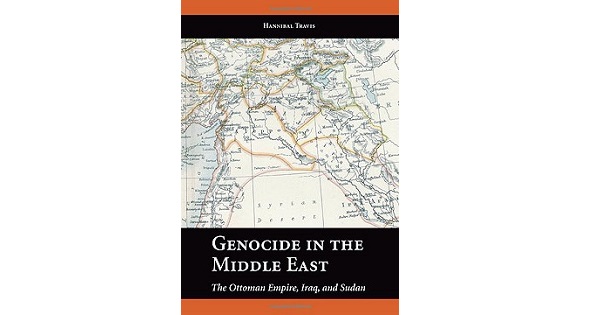 GENOCIDE IN THE MIDDLE EAST
The Ottoman Empire, Iraq and Sudan.
Hanibal Travis
Carolina Academic Press; 1st edition, 2010.
Available at Amazon


Genocide in the Middle East describes the genocide of the Armenians, Greeks, and Assyrians of the Ottoman Empire in the nineteenth and early twentieth centuries; of the Kurds and other persons living under Saddam Hussein in northern Iraq in the late 1980s; and of the Dinka, Nuba, Fur, Masalit, and Zaghawa peoples of Sudan from the 1970s to the present. It situates these crimes in their historical context, as outgrowths of intolerant religious traditions, imperialism and the rise of the nation-state, Cold War insurgencies and counterinsurgencies, and the global competition for resources and markets at the expense of indigenous peoples. This requires a more thorough investigation of the case law on genocide than has been attempted in the literature on genocide to date, including detailed accounts of the prosecutions of the leaders of the Ottoman Empire after World War I, of Saddam Hussein and other Iraqi officials after Operation Iraqi Freedom, and of President Omar Hassan al-Bashir and other leaders of Sudan by the International Criminal Court. Finally, the book explores emerging problems of genocidal terrorism, cultural genocide, and structural genocide due to starvation, disease, and displacement.
The field of genocide studies has grown rapidly in recent years, fueled by interest in the Armenian genocide, the wars in the former Yugoslavia and Iraq, and the widespread massacres in southern Sudan and Darfur. While several comparative studies of the Armenian genocide, the Holocaust, and other genocides have been published, none of them focuses on genocide in the Middle East and North Africa since the nineteenth century. This book provides a comprehensive history of genocide in the broader Islamic world, with a particular focus on the twentieth century. It is of interest to general readers, undergraduates, graduate students, academics, journalists, and legal professionals, and will be useful as a text for courses on International Law, International Criminal Law, Law and Religion, Middle East Studies, International Relations, Public Policy, Criminal Justice, or World History.
---
Note: By purchasing any Amazon product through our website, we earn a small commission which goes towards donating Greek Genocide reading material to teaching institutions. Click here to read more about how you can support this endeavor.