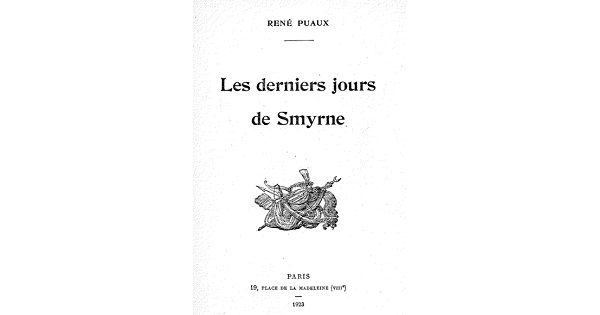 Les Derniers Jours de Smyrne
René Puaux
Paris 1923.
47 pages.
René Puaux (1878-1937) was a journalist for the French newspaper Le Temps. He arrived at Smyrna (today İzmir) in 1919 and collected vital eye-witness testimonies from the holocaust and massacres following the Kemalist Army's entrance to the city in September 1922.
Excerpt:
Depuis la publication de La Mort de Smyrne, de nouveaux documents et témoignages sont venus renforcer le dossier de cet épouvantable sinistre, qu'on ne saurait oublier, comme s'il s'agissait d'un gros fait-divers d'éphémère intérêt. En réunissant ici les résultats nouveaux de mon enquête, je crois faire œuvre utile au point de vue historique, car les hommes passent, la mémoire des témoins s'estompe, les documents se dispersent et, après un certain temps, il devient impossible de reconstituer les faits, avec quelque chance de précision.
J'ai délibérément écarté tous les renseignements dont je ne connaissais pas la source, tout ce qui était vague ou généralisateur. J'ai même atténué les nombreux récits que j'ai entendus ou eus sous les yeux pour faire la part de la nervosité de victimes qui ont tout perdu, de l'exagération orientale et des incapacités d'observation qui sont communes, scientifiquement, à la majorité des hommes.
Ce qui reste suffit à ne point laisser d'illusions sur l'horreur de la catastrophe de Smyrne et sur l'entière responsabilité de l'armée kémaliste et de ses chefs. ( from page3)