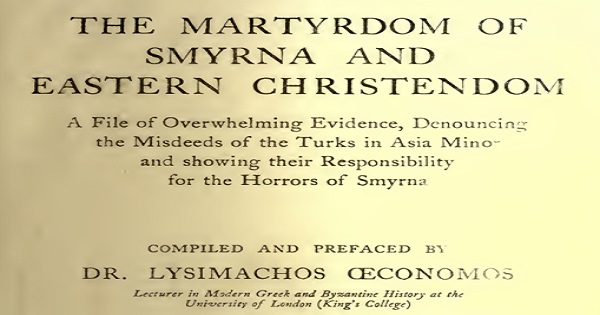 THE MARTYRDOM OF SMYRNA AND EASTERN CHRISTENDOM:
A File of Overwhelming Evidence Denouncing the Misdeeds of the Turks in Asia Minor and showing their Responsibility for the Horrors of Smyrna
Dr. Lysimachos Oeconomos
George Allen and Unwin, London, 1922. 237 pages.

View and download
Dr. Lysimachos Oeconomos was lecturer in Modern Greek and Byzantine History at King's College, London. Following the burning of Smyrna in September 1922, he put together a collection of press reports and witness accounts of Turkish atrocities during the Greek Genocide. He was also the author of a pamphlet published by the Anglo-Hellenic League titled The Tragedy of the Christian Near East with an Appendix on the Smyrna Holocaust by Rev. Charles Dobson.
He began his preface by writing:
Towards the middle of September last, news of an unprecedented horror, wired from the Levant, set the horizons on fire all over the world. Christian Smyrna was ablaze ! The city had been entered by the Turks on Saturday morning, September 9th, and, only a few days later, on Wednesday afternoon, September i3th, after she had been given up meanwhile to looting, violation and massacre, Giaour Izmir was carried over to the stake of an unprecedented Martyrdom ! She burnt entirely in her beauty and strength, and the scene of her flames springing forth into the skies effaced the classical remembrance of the fires of Troy and Rome.
This formidable brazier, wrought out by a criminal and destructive imagination, was but the culmination of several other crushing measures, adopted with a view to annihilating in Asia Minor whatever bore a Christian or Greek character.
Contents
Part I
A NEW ERA OF MARTYRDOMS
Chapter I
A file of American evidence as to the treatment of Christian minorities, both Armenian and Greek, in Kemalsit Asia Minor.
Chapter II
The collapse of the Greek lines, the Turkish invasion and the rush to the sea of the Christian populations
Chapter III
The martyrdom of Smyrna. A file of overwhelming evidence
Part II
BACK TO THE BIBLICAL AGE, OR THE EXODUS OF EASTERN CHRiSTENDOM.
Chapter I
The Asia Minor refugees
Chapter II
The Thracian refugees
Epilogue, or an an appeal to the world's concscience
Appendix. Dr. Nansens's World Appeal.