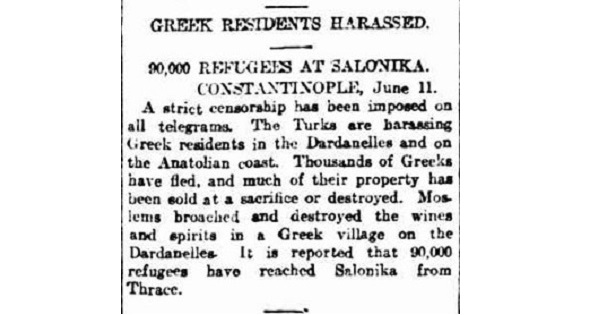 GREEK RESIDENTS HARRASSED
90,000 REFUGEES AT SALONIKA

The Advertiser.
Adelaide, South Australia
11 June 1914
Constantinople, June 11.
A strict censorship has been imposed on
all telegrams. The Turks are harassing
Greek residents in the Dardanelles and on
the Anatolian coast. Thousands of Greeks
have fled, and much of their property has
been sold at a sacrifice or destroyed. Mos-
lems broached and destroyed the wines
and spirits in a Greek village on the
Dardanelles. It is reported that 90,000
refugees have reached Salonika from
Thrace.
---
"TURKEY AND GREECE." The Advertiser (Adelaide, SA : 1889 - 1931) 12 June 1914: 9. Web. 31 May 2021 <http://nla.gov.au/nla.news-article6420341>.