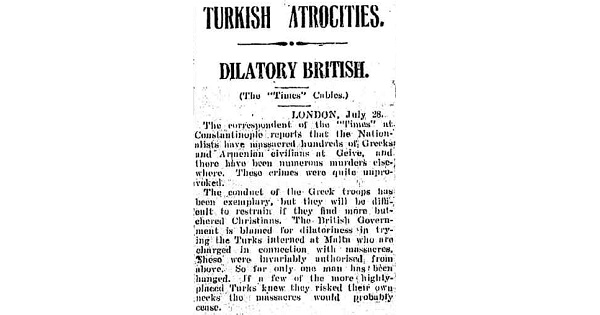 TURKISH ATROCITIES
DILATORY BRITISH

The Maitland Daily Mercury (NSW).
July 31, 1920. p.5.
(The "Times" Cables)
LONDON, July 28.
The correspondent of the "Times" at
Constantinople reports that the Nation-
alists have massacred hundreds of Greeks
and Armenian civilians at Geive, and
there have been numerous murders else-
where. These crimes were quite unpro-
voked.
The conduct of the Greek troops has
been exemplary, but they wil l be diff-
icult to restrain if they find more but-
chered Christians. The British Govern-
ment is blamed for dilatoriness in try-
ing the Turks interned at Malta who are
charged in connection with massacres.
These were invariably authorised from
above. So far only one man has been
hanged. If a few more of the more highly
placed Turks know they risked their own
necks the massacres would probably
cease.


---
"TURKISH ATROCITIES." The Maitland Daily Mercury (NSW : 1894 - 1939) 31 July 1920: 5. Web. 21 Jul 2021 <http://nla.gov.au/nla.news-article127337896>