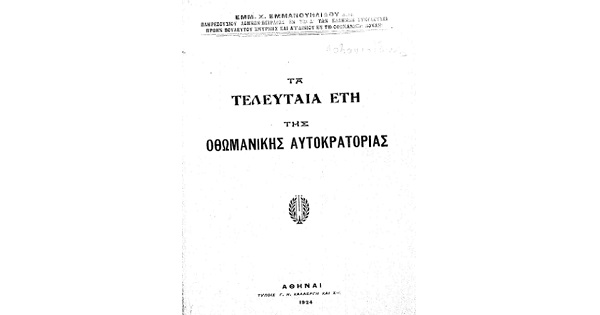 THE LAST YEARS OF THE OTTOMAN EMPIRE
Emmanuel Emmanuelides
Former Member of the Ottoman Parliament for Smyrna and Aydin
Athens 1924.

Emmanuel Emmanuelides (1867-1943) was born in Kayseri, Asia Minor. He completed his studies at the Phanar Greek Orthodox College (Gr: Μεγάλη του Γένους Σχολή) in Constantinople then studied law at the University of Athens. He later worked in a legal practice in Smyrna. He served as a member of the Ottoman Parliament for Smyrna and Aydin for a number of years. His memoir The Last Years of the Ottoman Empire was completed in August 1920 and published in 1924.
On pages 54 he wrote:
Around the last quarter of 1913 I went to Istanbul and encountered some unusual figures, people wearing a new type of clothing; velour trousers and black caps. It wasn't until later that I realised these were the famous fedayis, in other words the army the Neo-Turks were creating to execute decisions made against the Christian element in Constantinople and the districts. While they were organizing this force, they were also putting into place suitable propaganda to prepare the Turkish people for the imminent campaign. The media began exciting the public in pages of various daily newspapers with the purpose of igniting the Turkish fire of hatred against the Greeks. The intended message was to have people think that as long as Greeks stayed in the country, Turks would remain poor and the value and life of the Muslim would never be secure and the nation would be in danger. Pictures began circulating of the rulers of the Balkan nations on horseback trampling on the Turkish flag or on the corpses of women and children. Despicable maps were printed where the lost lands were colored black and were posted to schools with revengeful inscriptions on them, the region ceded to Bulgaria having a dark colour, an indication that Greece had to pay for it. Announcers and propagandists were sent to different regions as well as messengers of hate and revenge, the loudest of whom was Omer Naji of Smyrna.