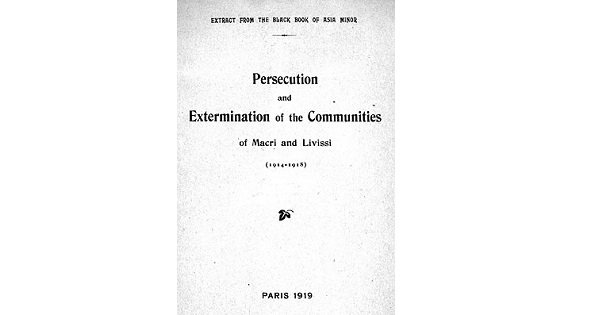 PERSECUTION AND EXTERMINATION OF THE COMMUNITIES OF MACRI AND LEVISSI (1914-1918).
Extract from The Black Book of Asia Minor.
Imprimerie Chaix, Rue Bergère,
Paris 1919.
This 23 page booklet documents the persecution of the Greeks of Macri (today Fethiye) and Levissi (today Kayaköy) during the period 1914-1918. It is signed by community members L. Eliou (Professor at Robert College), R. Moussios (Physician at Smyrna), C. Constantinou (Professor at Robert College) and A. Stamatiades (Barrister at Smyrna) and dated February 15-28, 1919.

Further Reading:
The Persecution of the Greeks of Levissi (Kayaköy) & Macri (Fethiye)
The Testimony of Nikos Pantelis
The Testimony of Grace Papageorge