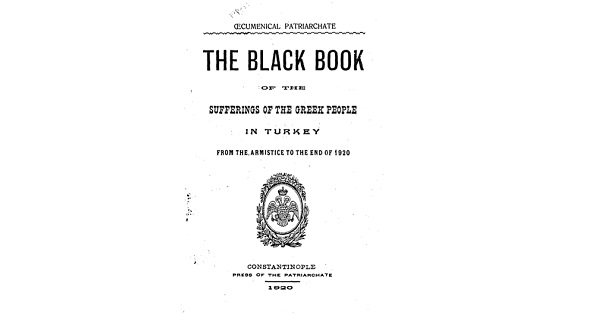 THE BLACK BOOK OF THE SUFFERINGS OF THE GREEK PEOPLE IN TURKEY
FROM THE ARMISTICE TO THE END OF 1920.
Ecumenical Patriarchate
Constantinople, 1920.
174 pages.
This is the second of two Black Books published by the Ecumenical Patriarchate detailing the persecution of Greeks in Ottoman Turkey. The first Black Book was published in April 1919.
The Ecumenical Patriarchate was the spiritual head of the Greeks of Ottoman Turkey and represented them on a number of matters. Through its various community diocese, the Patriarchate was able to document information on the persecution of Greeks within the Empire.