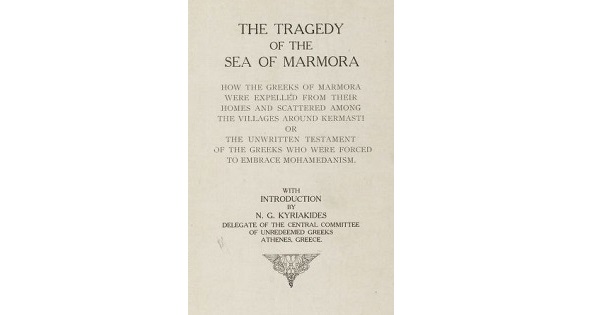 THE TRAGEDY OF THE SEA OF MARMORA
HOW THE GREEKS OF MARMORA WERE EXPELLED FROM THEIR HOMES AND SCATTERED AMONG THE VILLAGES AROUND KERMASTI OR THE UNWRITTEN TESTAMENT OF THE GREEKS WHO WERE FORCED TO EMBRACE MOHAMEDANISM.

Relief Committee for Greeks of Asia Minor, [1918?]
With an introduction by N.G. Kyriakides, Delegate of the Central Committee of Unredeemed Greeks, Athenes, Greece.

A 13 page document which comprises the testimony of Mr P. Theodosios who describes the persecution of the Greeks of Marmora including their deportation, assassinations and beatings, separation of family members, deprivation of adequate food, the abduction of Greek girls by Turks and the destruction of their schools and churches.
The largest of the islands, the Marmora (or Marmara) Island (Gr: Προκόννησος) today Marmara Adasi, is a large island in the Sea of Marmara situated some 100 km south-west of Constantinople ( today Istanbul). Up until 1915, the island was almost exclusively Greek, inhabited by approximately 15,000 Greeks. At midnight on the 6th and 7th of June 1915, Ottoman government officials began knocking on doors and advising Greeks that they were being deported to the interior of Asia Minor. They were sent to places inhabited entirely by Muslims around Kermasti (Tr: Mustafakemalpaşa) situated some 60km to the interior of Asia Minor in the Bursa district, as well as Apollonias (Tr: Gölyazı) and Michalitch (Tr: Karacabey).

Further reading:
Persecution of the Greeks in Turkey since the Beginning of the European War.
Persecution of the Greeks in Turkey, 1914-1918.
Deutschland über Allah! Germany, Gallipoli and The Great War.
Evacuation of the Different Towns and Villages and Violent Manner of Expelling the Inhabitants 1915