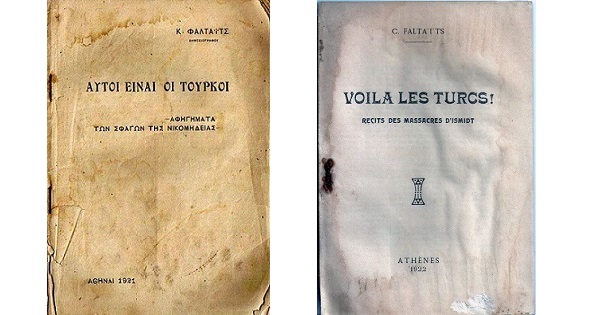 THESE ARE THE TURKS: TESTIMONIES FROM THE NICOMEDIA (IZMIT) MASSACRES
Αυτοί Είναι οι Τούρκοι. Αφηγήματα των Σφαγών της Νικομήδειας, Αθήνα 1921.
Voila les Turcs!: Recits des Massacres d'Ismidt, Athenes 1922,1923.
By Kostas Faltaits

These are the Turks is a collection of testimonies taken from the survivors of the Izmit (Nicomedia) massacres of 1920-1921. The testimonies were collated by renowned Greek journalist Kostas Faltaits while he was working in Asia Minor as a war correspondent for Hellenic newspaper Embros. The testimonies were taken from Ottoman Greeks who had survived the onslaught of Kemalist regular and irregular forces in places such as Fulacik, Adapazari, Konzes, Karatepe, Karasu, Osmanel (Gr: Lefkes) and Findikli (Gr: Foundouklia) while one chapter is dedicated to the Armenian Metropolitan of Nicomedia Stephan Havakimian. The book was also published in French in 1922 and 1923 under the title Voila les Turcs! : recits des massacres d'Ismidt.
The book was translated to English and published in 2016 under the title The Genocide of the Greeks in Turkey: Survivor Testimonies form the Nicomedia (Izmit) Massacres of 1920-1921.

Further reading:
The Massacre of Greeks at Fulacik, June 1920.
The İznik (Nicaea) Massacre, August 1920
The Massacre of Greeks at Konzes, Feb 1921.
Ortakoy, Bithynia: The Massacres and the Uprooting