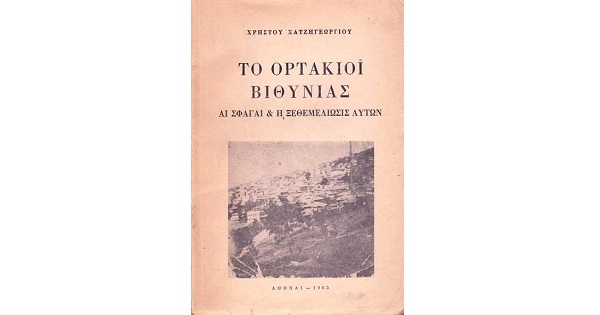 ORTAKOY, BITHYNIA: THE MASSACRES AND THE UPROOTING
(Ορτάκιοι Βιθυνίας. Οι Σφαγές Και Η Ξεθεμελιωσις Αυτών)
Christos Hatzigeorgiou
Athens 1965.


Ortaköy was a large town situated in the Bithynia region of Asia Minor approximately 10km north east of Geyve and 120km south east of Constantinople (Istanbul). Of its 10,000 residents, approximately 5,000 were Greeks and it comprised a large Armenian community. The persecution of the Greeks of Ortaköy began in March 1920 when a large portion of the Greek community was massacred by Kemalist forces. Christos Hatzigeorgiou survived the massacre and provides a detailed account of what happened in this book.
On pages 73-74 of the book, Hatzigeorgiou describes how a Turkish lady offered to protect his family by hiding them in her home. He wrote:
We waited in the grove from where the whole plain and the railway line appeared alongside the Sakarya River where the railway bridge was also very close and we observed the location of the sentries and planned a way to pass to the opposite side where our mother and sister were to arrive with our food provisions. We had already decided that as soon as we were supplied with more food, we would flee from these hiding places since there was no other salvation for us. As we were dwelling on this it began to get dark and suddenly we saw from the edge of the village our mother arriving with our sister. But a few meters away we saw another woman following them. We thought that this woman was lurking to find out where we were hiding. We remained with this thought and when they approached the grove, we also descended from the little hill and told them that a woman was following them. Our mother told us that she was not following them, but that she had accompanied them to convince us not to go anywhere else but to go to their house where they would protect us, since as they had learned, women and small children weren't being hunted so there was no danger.
This is what our mother told us, but the woman did not approach us. Instead, she remained at a distance and waited for our mother to tell her our answer. Even then, I didn't believe the things they told her so I said to her: "Since they don't bother the women, if you want to, you can stay with our sister. Give us this food and we will leave for Adapazar and if we save ourselves, that's a good thing." After saying that, we took the bread and whatever else they had, we all embraced and with tears in our eyes, we went our separate ways. Our mother and sister insisted that we stay at this village with this lady's family but when we went our separate ways, they returned and approached the woman.
When the woman saw that both mother and daughter were crying, she asked them: "Why are you both crying? Why didn't your children come?" Our mother replied: "In no way did they believe the things you told me and for that reason they want to flee to Adapazar by themselves." Then the woman also began to cry and said to my mother: "What are you doing? Are you out of your mind? Do you know what's happening to you? Why are you letting those children leave on their own? Are you sure they will be safe if they flee to Adapazar? Go back and take them close to you. You don't know what will happen. We will protect all of you as much as we can, and after that, God will decide."
On page 91 he describes the scene of a massacre. He wrote:
I remained hidden as I saw them taking all the women to the side of the lake and made them sit together. I then saw them taking 2 women at a time and proceeded to slaughter them like lambs. At one stage I saw my mother for the last time holding my sister while 2 Turks were beating them as they were taken away. It was at this stage that I totally lost my senses and began trembling like a fish. After slaughtering them, they threw them into the lake. One girl who was 16 years of age, a very nice girl by the name of Kyriaki Mela, they cut her head from her body and she walked around making a growling noise for minutes before she fell inside the lake with the others.
Further reading:
The Massacre of Greeks at Fulacik, June 1920.
The İznik (Nicaea) Massacre, August 1920
These are the Turks
The Massacre of Greeks at Konzes, Feb 1921.