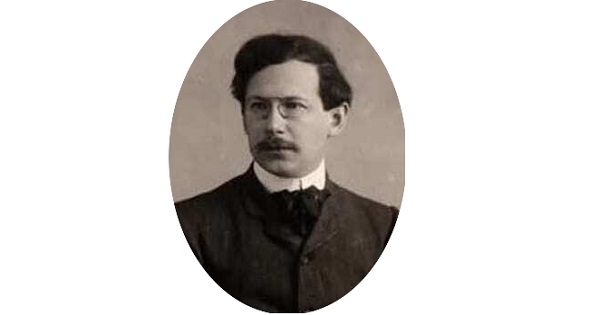 Félix Sartiaux (1876-1934) was an engineer and amateur archaeologist. He graduated from the French Polytechnic and was the Director of Operations at the French Northern Railway Company. He was sent to Asia Minor by the French Government to conduct archaeological excavations at the ancient town of Eski Foça (Old Phocaea). Seafaring Greeks from the town of Old Phocaea founded the city of Marseilles around the 6th century BC. He conducted excavations there in 1913, 1914 and 1920.
On his second trip to Foça in 1914 he witnessed the violent pillage and looting of the town and the massacre of its residents. Sartiaux, accompanied by three assistants, made four French flags and hoisted them on their houses which provided refuge to fleeing and panic stricken Greeks. Some 700-800 Greeks sought refuge at these houses and were saved from bandit attacks. Sartiaux became an eye-witness to the massacre and his documented testimony and photos have proved invaluable in describing the sequence of events. Following the end of WW1, between 1919-1920, many Phocaeans, including Sartiaux, returned to Phocaea only to be expelled again following the burning of Smyrna in 1922. He went on to publish documents and photos of his archaeological work including the events of the massacre.
Sartiaux published his testimony of the pillage of Foça in French under the title Le Sac de Phocée: et L'expulsion des Grecs Ottomans d'Asie-Mineure en Juin 1914 which was printed in the French magazine Review of the Two Worlds in December 1914. He wrote:
Just as our homes are being emptied of refugees from the previous night, they begin filling again with new arrivals who feel secure from the violence, only under our roof. Their lives have been saved due to the sole fact that they abandoned everything and fled. The majority are wearing torn clothing, many of them are covered in blood. Due to the ferocity of the assault, they were not even able to take some bread with them for the road.
Wealthy notables from the region fled bare-footed, the bandits even taking their shoes. The children cry as they search for their parents. We don't reveal to a mother that her two children have been murdered. We find a newborn child on the street but we are unable to find its mother so we give it to another woman who is breastfeeding her own child. Women approach us in desperation and beg us to find their husbands or their fathers, or their daughters who were raped or abducted. The saddest moment is when we have to farewell our good old friends. Some embrace me in tears and offer me their eternal gratitude. Others are able to control their emotions and offer me both their hands, while their sweet eyes and timid gaze lock into my own gaze, and pierce the depth of my soul in a silent and final goodbye...
The Greek government awarded Sartiaux the Order of the Redeemer, its highest order of merit in the 1920's. In August 2010, a street was named after Félix Sartiaux in Nea Phocaea in Halkidiki, northern Greece. A monument was also erected there. The monument reads ΟΔΟΣ ΦΕΛΙΞ ΣΑΡΤΙΩ - RUE FÉLIX-SARTIAUX (Felix Sartiaux Street) and was designed by sculptor Vasilis Pavlis.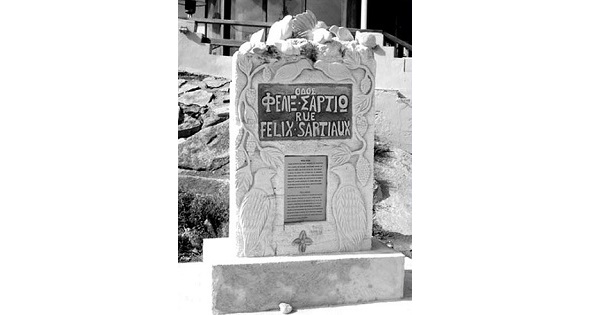 Monument erected in honor of Félix Sartiaux. Halkidiki, Greece.
Further reading:
Phocaea 1913-1920: The eye-witness account of Felix Sartiaux.
Le Sac de Phocée: et l'expulsion des Grecs Ottomans D'Asie-Mineure en Juin 1914
The Massacre of Foça (Phocaea) 1914
16 Jun 1914: Massacre of 100 Greeks in Asia Minor, The Daily Telegram
The 1914 cleansing of Aegean Greeks as a case of violent Turkification.