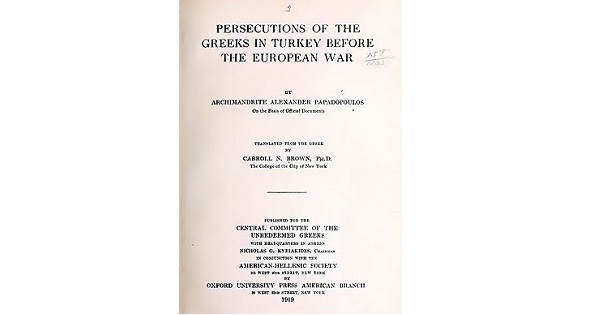 PERSECUTIONS OF THE GREEKS IN TURKEY BEFORE THE EUROPEAN WAR
By Archimandrite Alexander Papadopoulos.
Translated by Carroll N. Brown.
Oxford University Press, New York 1919.

This publication details the persecution of Greeks in the Turkey before the outbreak of WW1. It was compiled by Archimandrite Alexander (Anthimos) Papadopoulos (1878-1962) using official documents.

CONTENTS
PART I
The Policy of the Young Turks toward the Greeks from the Establishment of the Sham "Constitutional Regime" up to the Balkan War.

PART II
The Anti-Hellenic Orgies of the Turks from the Time of their Advance in Order to Recover Adrianople up to the beginning of 1914.

PART III
The Mass Persecutions of the Year of 1914, in Thrace and Asia Minor, up to the Outbreak of the European War.